July/August 2013 Wellness Profile, Lake Mary Healthy Living Magazine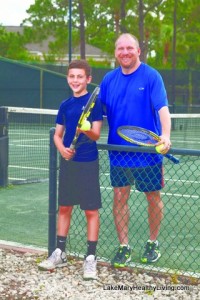 Home:Heathrow
Age: 45
Profession: Partner in the law firm of Latham, Luna, Eden & Beaudine, specializing in commercial, land use, real estate and property valuation litigation
Family: Wife of 14 years, Caryn; two children, David, 11, and Alexa, 9; labrador/shepherd mix rescue dog, Jack
Spare-time activities: "I enjoy tennis, running and reading. I also enjoy attending shows and symphonies with my wife and children. I am past president of the Jewish Community Center (JCC) Board of Directors and I am chairing the nearly 100-percent-complete project to renovate the pool, outdoor basketball court, tennis courts and playgrounds at the JCC."
Favorite local place for exercise/wellness activity:"I play tennis at Heathrow Country Club — the courts are in excellent condition and it is really fun hitting with my children. One day a week, I go for a long run on the [Cross] Seminole Trail with a friend for a good hour of conversation. The remainder of the week, I work out at the JCC because it is a very friendly environment."
Favorite local place for R&R: "We have a condo in Ponce Inlet looking out on the ocean."
Wellness regimen: "I play tennis, mostly singles, two to three times a week. On Saturdays, I go for a long run along the Cross Seminole Trail with a friend. I work out for 30-45 minutes most days at the JCC, cardio and moderate weights."
Wellness philosophy: "I exercise to have fun and feel better. Other than tamping down on the fried foods, I do not fret over what I eat or drink because I want to enjoy myself. Social exercise, such as tennis or running, is an important motivator that allows me to meet people.
"Favorite things about living in Seminole County: "Running, walking and biking along the Cross Seminole Trail. There is easy access to just about everything."
Wellness advice: "Find activities that you enjoy and can share with family and friends and do them!"
Top photo by Betsy Hansen; Bottom photo Rey Villavicencio, Villavicencio Photography, Inc.